A Trip to NZ and AU
Our three week trip was a study in superlatives -- great countries, wonderful, friendly people, the cleanest air and water we've ever experienced, and scenery that rivals anything on earth. The following is a sampling of the images we collected (I took over 250 photos (most hardcopy)).
The flight from LAX to Auckland is a killer but the end result is really worth it. New Zealand is a virgin country -- everything is fresh, clean -- sort of a throwback to what the USA was about 100 years ago (environmentally) but thoroughly modern in most other respects.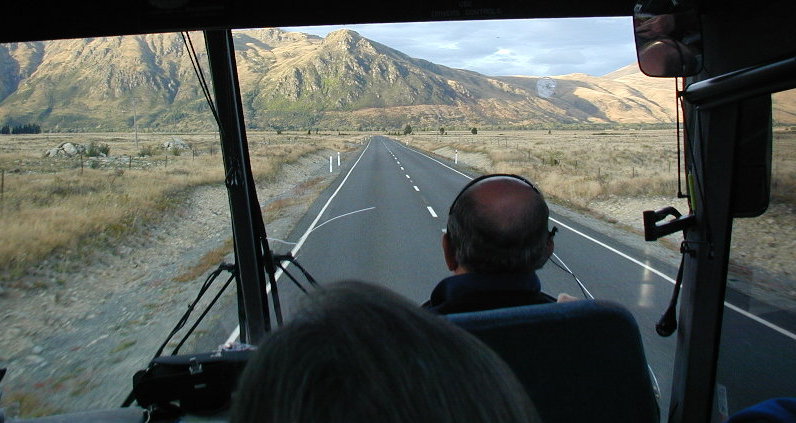 This is a typical vista taken on a road along NZ's south island. This stretch is dry ... almost arid... but as you move toward the mountains, everything turns VERY Green. The land on both sides is used for sheep farms. There are 3.5M people in NZ and 65M sheep!

We first went to Rotorua in NZ's north Island ... the home of hot springs, volcanos, and the Maori people, the Indiginous NZ people.

If Barb looks tired here, it's because we just arrived in Rotorua after about 16 hours in the air. The town is tiny . As you enter, the smell of Sulfur is overwhelming. There are hundreds of bubbling mud pools and hot springs as well as gysers that shoot maybe 40 meters into the air
We went to a Maori cultural center where they showed how the native peoples lived 800 years ago. It's set in a rain forest ... was a little "touristy" for my taste, but it was interesting. These people sailed to NZ from Hawaii around 1200AD! A distance of about 7000km ... no compasses, maps, nav equipment ... amazing. Some of the tribes on the Island were cannibals. Their body art gives new meaning to the word tattoo ... difference was that they cut the tattoos in with a knife, then used charcoal ink to create color.
From Rotorua we flew to Queenstown on the south Island. This is an environmentalist's and extreme sports lover's paradise --- also home of Bungie jumping. The scenery is absolutely spectacular. A few samples follow:
Dozen of waterfalls, many 100 meters of more high, run off the glaciers that exist year round at high altitudes. they for crystal clear rivers that have a blue tint, very striking. We stops to fill a water bottle in a tiny stream running from a water fall. The water was so cold that I couldn't hold the bottle under long enough to fill it. It took three tries
The trip continues to Milford Sound (in NZ) and then work in Wellington. If you'd like to see more, click here.